Once your Leadspace/Marketo integration is complete, the next step is to set up a Marketo Match Rate Report.  This report tracks match rates of your Leadspace fields and assesses how well your fields are populating, allowing you and your CSM to measure the effectiveness of your Leadspace integration and adjust as necessary.
For any additional assistance in setting this up, please contact support@leadspace.com
1.  Creating Leadspace Smart Lists
The first step in creating a Match Rate report is to set up smart lists for all Leadspace-populated fields that your business needs regular and prompt access to.  Smart lists are groups of your leads, segmented by defining characteristics.  They enable you to filter on the data that is actionable and impactful to your sales and marketing teams.  
To do this, go to "Marketing Activities", and enter the smart list tab within your smart campaign.  
On the list of Triggers and Filters on the right hand side, open up the "Lead Attributes" folder under "Filters".  
Find and drag the fields that you wish to filter by into the canvas.  
We highly recommend that you first find and drag the "LS Status" filter, which contains the lead enrichment status. This enables you to filter leads on the LS Status value "Enriched", leaving only those that have been successfully enriched by Leadspace.
 

Once you have set the LS Status smart list, please set additional smart lists for all fields you would like to assess the enrichment performance of. 
a) Smart Lists For Leadspace Designated Fields
To create a smart list just for Leadspace-designated fields (fields populated ONLY by Leadspace), drag the field into the canvas and set the filter to "is not empty".  
Since only Leadspace information enters these fields, setting up a smart field for LS fields will return all leads who have had these fields populated by Leadspace. 
For example, a smart list for the "LS Lead Country" field will create a list of leads for which Leadspace found a country for:



b) Smart Lists For Non-Designated Fields (Fields Populated By Multiple Sources)

If you would like to track match rates for fields populated by multiple data sources (not just Leadspace), you may create smart lists for those as well.  For example, standard fields such as email, address, industry, etc, may be populated using multiple data sources, not just Leadspace.  
It is important to note that this action will return all leads who have had this field populated, regardless if it was by Leadspace or not.  If you only want to track how well Leadspace populates a field, it is best to use Leadspace designated fields.
If you are unsure of how to do so, please contact support@leadsapce.com
2.  Creating The Match Rate Report
a) Set the report settings
We will now use your smart lists to create a Marketo Match Rate Report.  
To configure your report settings, go to Marketo → Analytics → Lead Performance: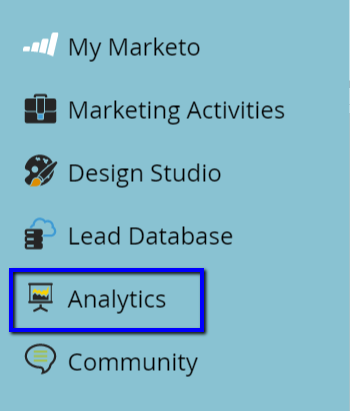 On the "Setup" tab, drag and drop "Custom Columns" into the report "Settings".  Set your smart lists as report columns.
Set the rest of your report settings as follows:
Lead Created At: Set the time frame to "All Time" so that it includes all the leads in your database
Group Leads By:

 Set to either the lead creation date OR the "LS Updated" field (time stamp of when Leadspace enriched). We recommend setting granularity to months, although you may set a different granularity if it suits your practice.

 
Export Row Available: Keep at 5000
Custom Columns: Select all Leadspace fields you created a filter for in your smart list
Below you can see an example of how the "Setup" tab should look:

b) View and customize the report
Click on the "Report" tab to view the report.  
Arrange the report columns in your preferred order, although we do recommend setting the "Leadspace Enriched Leads" as the far left column.
Note that since the report is querying your entire database, it may take some time to retrieve the data.
c) Save Report
Click Report Actions → Save As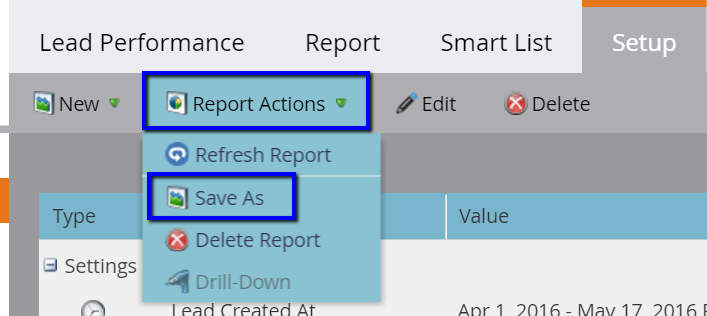 Name your report "<Company Name> | Leadspace Match Rate Report" and save it in the correct folder.  It helps to have your company name at the beginning of the title for your CSM's review.
3. Creating A Report Subscription To Your CSM
In the "Subscription" tab, click New → New Report Subscription:



For Email Recipients, please ensure to include your Leadspace Customer Success Manager Email so they may analyze Leadspace performance on your Marketo enrichment process.  
Set frequency to once a week, unless otherwise discussed between you and your CSM. 
Please ensure that the "Attach Excel Report" checkbox is checked. 
Your New Report Subscription should look like this: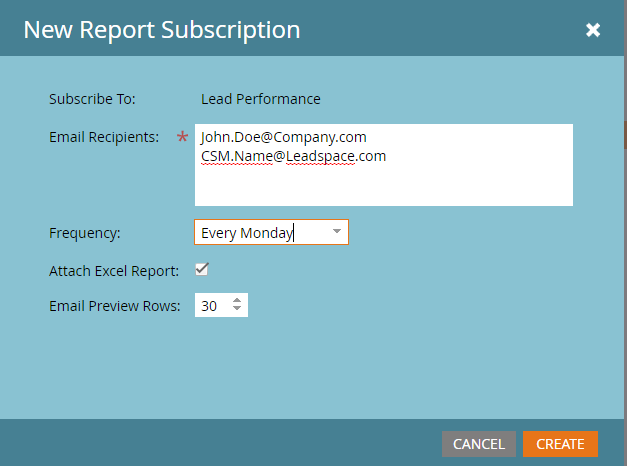 Now you have the report set, you can start tracking Leadspace enrichment metrics on your Marketo.

If you feel you need any further assistance, please contact support@leadspace.com