Due to some recent updates in Salesforce, some users may experience an error 'Refused to Connect' when using the Leadspace Enrich button on accounts, leads, and contacts. This article will outline a quick fix to this issue.
Issue
When clicking the Leadspace Enrich button, users get an error with a URL followed by 'refused to connect' as seen here: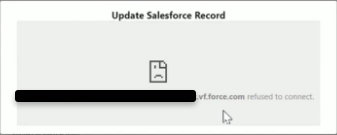 The URL ends with vf.force.com indicating that a specific VisualForce page is unable to be accessed.
Solution
Salesforce recently enabled 'enhanced domains' for some instances, and this change as well as other Salesforce updates can cause 2 specific settings to be enabled that affect the VisualForce page access for your session. Therefore, to resolve this issue, you must disable the following settings:
Go to Salesforce Setup > Security Controls > Session Settings
Scroll down to Clickjack Protection
Uncheck Enable clickjack protection for customer Visualforce pages with standard headers and Enable clickjack protection for customer Visualforce pages with headers disabled
Click 'Save' at the bottom of the page
Refresh your session and attempt to use the Leadspace Enrich Button on a record

You'll notice that the top 2 options are greyed out and cannot be modified. However, the bottom two options can be modified and by disabling these, the error should be resolved
If you have any further issues or questions around this, please reach out to the Leadspace Support Team for assistance.