Overview and Challenges facing SDRs
Sales development is one of the most essential processes an organization can build to deliver a seamless, efficient revenue machine.
Effective time management is crucial to sales development representative (SDR) productivity. According to Gartner, "83.4% of SDRs fail to consistently hit quota each month, largely because they lack this critical skill," a skill which has become increasingly important as buyers become increasingly more challenging on account of changing buying preferences, forcing sales organizations to adopt agile operating models underscored by sustainable processes, consistent governance, and agility.
McKinsey noted that "underpinning and enabling the dynamic, fast pace of agile sales teams are the stable practices that provide the structure within which agile teams can operate quickly and effectively."
So, in such uncertain conditions, how can we drive stability for our SDRs and deliver a process-oriented set of priorities that allow them to focus not on determining which accounts they should work, but rather, emphasizing their time on ensuring their outreach is timely, personalized, and as effective as possible?
Let's focus on how we assuage this challenge and drive positive changes with Leadspace.
Distinguishing Good Leads from Bad Leads
Good Lead, or Bad Lead?
Whether your SDRs are compensated for closed deals with leads they sourced, or whether they earn when a meeting is qualified and booked by an AE, you SDRs are incentivized to not just prospect but to really consider what distinguishes a good lead from a bad one. In other words, who is more likely to close?
How do we adjust to buying preferences while deciphering the characteristics of a good lead versus a bad one? Allow predictive analytics to remove the guesswork and to help shoulder that burden. How? Review our Lead Scoring Primer, here. Hint: Connect with your Leadspace CSM to understand if you can use Leadspace's Predictive Models to help your SDRs uncover those insights from your company's historical sales performance.
Removing the Guesswork
By leveraging Leadspace predictive Modeling to uncover buyer insights, you're able to confidently predict a Lead or Account's propensity to achieve the desired KPI you're looking for, be that an MQO or the likelihood a prospect will convert to closed/won. Regardless of the KPI, Predictive scores help your SDRs determine with ease which leads are good, and which should be recycled.
Our model outputs aim to be actionable in your systems and your enrichments. We use the model to score your leads based on their propensity to meet the desired action, whether that's converting to an MQL, MQO, or even closed-won.
Those scores will range from 0 - 100, where the values represent the following on a scale of 1 - 100:
0 - represents a low propensity to meet your desired outcome, KPI, or goal

100 - represent that the account, contact, or lead has a high propensity to convert against your targeted KPI
Driving Efficiency with Predictive Scoring
Predictive model? Check. Scores? Check. So what—how will this help your SDRs more effectively plan out their day-to-day? The predictive scores do that in two basic ways:
Identify & prioritize quality leads and convert them into opportunities

Spend less time on leads with a low propensity to convert
Seems simple, right? Well, that's the point - good tools should be easy to use, yet effective. Let's dive into how your SDRs can use these new tools.
Let's assume your SDRs are compensated on the number of Leads they convert into MQOs, or Marketing Qualified Opportunities—everything they're doing from calling leads directly to putting them into high-touch cadences should be working towards that goal. Under that assumption, we'd expect SDRs should work their leads starting with the highest quality ones first, and then cascading down to the lower quality leads to increase their odds of success. Predictive will help increase those odds of success by improving their ability to assess quality quickly.
Assessing Quality with Leadspace Scores and Buckets
As you've seen above, the output of the models is a Predictive Score, which we also convert into an actionable bucket, and we'll work with your team to expose those in your CRM, such as SFDC.
Here's what those scores mean to you:
Those scores will range from 0 - 100, where the values tell you the quality of the lead.
For instance:
Score = 30: This Lead has a low propensity to become an MQO. It's not a good Lead

Score = 60: This lead has a medium-high propensity to become an MQO: It's a good lead

Score = 90: This Lead has a VERY high propensity to become an MQO. It's an excellent Lead
Buckets: Break down the scores into understandable segments.
| | | |
| --- | --- | --- |
| Bucket | Overview of Quality | Likelihood to Convert |
| A | Excellent Quality | Most Likely |
| B | Good Quality | More Likely |
| C | Average Quality | Less Likely |
| D | Poor Quality | Least Likely |
The above should begin to help you understand how Predictive Scores quicken your ability to distinguish good from bad so let's now look at how you prioritize when you're armed with those insights
Prioritizing with the Leadspace Scores and Buckets
Once your scores are available in your CRM, you'll use them as follows. Below, you'll see a sample scenario on how you could interpret the scores to drive efficiency.
Scores: Raw scores that determine the overall quality of a Lead or Account
The higher the score the more likely it is to be a good Lead or Account

The higher the quality of the Lead or Account, the higher their priority to your SDRs
A Lead with a score of 90 should be called and worked before a lead with a score of 80
Buckets: Think about prioritizing your day and workflows like this: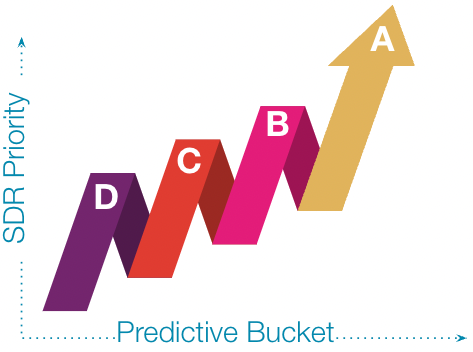 A: These are your first priority,

CALL THEM

. Work these Leads or Accounts immediately!

B: After you're done working your As, move on to these Leads or Accounts

C: If you've completed your As & Bs, give these a go

D: Unless the above buckets have all been worked and sequenced, do not prioritize
Create Reports and Dashboards
The last step is to create some reporting and dashboards to help you quickly sort your As from your Ds, allowing you to create a hit list of which leads to tackle throughout the day, and which you can recycle for a later time.