Overview
Anticipate software buyers' needs and drive conversions using different types of intent data for marketing and sales campaigns. At its core, intent data helps B2B marketers find and target active buyers, leading to better customer acquisition, retention, and growth initiatives.
The B2B buyer's journey has become increasingly more complex, with buyer preferences shifting at every turn and businesses facing fundamental disruption, incremental changes will no longer suffice. The era of incrementalism is coming to an end, meaning B2B marketing and sales leaders can no longer afford to rely on traditional marketing or sales tactics that provide progressive profiling insights—with sales situations changing dramatically, requiring rapid customer responsiveness, both sellers and buyers must get accustomed to remote and digital interactions that change instantly.
As those preferences shift toward digital-first, self-guided decisions, software and SaaS vendors struggle to identify prospects' purchase intent and track the ever-shifting buyer behavior. As such, businesses seek a deeper understanding of potential customers' purchase intent beforehand to improve the buying experience.
What is Intent Data
What is intent data?
Per Gartner, in simple terms, intent data is "information that indicates prospects' level of interest in a particular product or service online." It includes prospects' web searches and the pages they visit." It's then processed, benchmarked, and then analyzed in conjunction with other signals (activity data, for example) to offer intelligence into the buyers' mindset.
The Leadspace Intent Score indicates whether a company has been looking for specific intent keywords recently, and then algorithmically compares companies you care about against an extensive benchmarking system to offer you true, unbiased insight into intent on companies you care about.
Our score reflects level of interest across the internet from traffic and search data. Generally, if a company has high intent, their readiness to be in market and have a conversation is much higher.
Using this score, you can:
Identify early buyer interest.
See if a company has been surging on searches for a month
Find the topics they're interested in
Where Intent Data Comes in
Improving that buyer experience is contingent on addressing capricious buyer behavior and the ability to track those ever-shifting attitudes to uncover deeper insights where sellers seek to truly understand their prospects, their challenges, and their desire to tackle those challenges facing their business.
B2B intent data from Leadspace can help accomplish this goal. Intent data offers insights into what buyers are looking for and how their searches lead them to a software vendor's website. It helps software providers understand potential buyers' needs, streamline buying processes and build a consistent sales pipeline. By leveraging a combination of these three key areas of insight, you can leverage Leadspace Intent to proactively outbound to prospects, or attack inbound leads and accounts as soon as they're ready to engage.
Use these data to enable and empower the following intent use cases:
Maximizing the Advantage of Intent - 5 Methods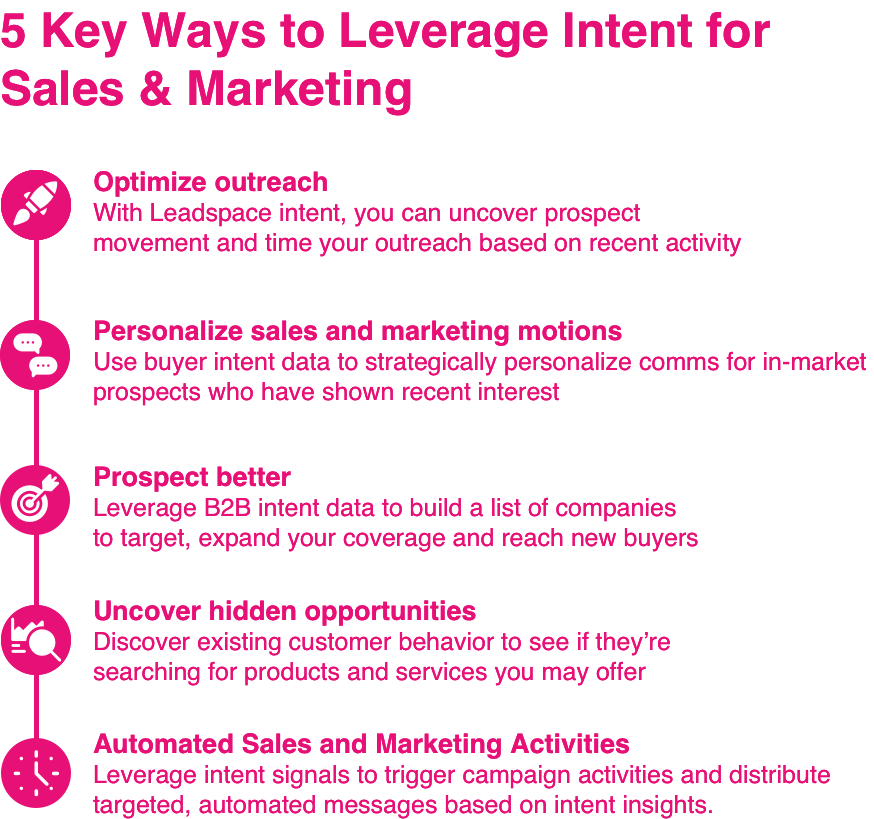 Optimize Outreach
Prospects spend 50% of their time seeking information from third-party sources, according to Gartner. We've found that this search activity frequently includes potential solutions to their challenges, including looking for products that can help drive value for their organizations. Sales teams typically wait for buyers to complete an action or contact form to identify prospect interest. With buyer intent signals, it's now possible to uncover prospect movement and prioritize outreach based on those intent indicators.
Leadspace intent signals can guide you in making the most of this decision-making process by unearthing insights to support that prioritization. By providing Intent Levels, Surging Intent Indicators, and Intent Topics searched by target accounts, you can get a 360 view of the intent activity and prepare your outreach accordingly.
Personalize Sales and Marketing Motions
Quality intent data can provide insight into prospect research history, including specific companies, products, and competitive services. The Leadspace intent topics are particularly helpful to guide specific terms the account and lead you're looking to reach out to can support how you craft messaging and connect with your leads, because "by the end of 2022, more than 70% of B2B marketers will utilize third-party intent data to target prospects or engage groups of buyers in selected accounts." S
Initial sales and marketing outreach commonly include generic marketing tactics, product information, and offerings because of limited prospect information. Buyer intent signals help teams identify where buyers are in their purchase journey, enabling them to adapt targeted marketing messaging and sales pitches, and better align with the specific interest signals buyers leave across third-party sites.
Prospect Better
Recognizing a prospect's readiness to buy will take you closer to defining a high-quality lead for your business, so to make the most of your marketing and sales efforts, focus on building prospect lists with companies that show readiness to be in the market for a solution by reaching a specific intent threshold.
Leverage B2B intent data to build a sales-ready list of companies to target, expand your coverage and reach new buyers, as well as discover contacts that are most interested in your product or service. Leadspace's contact discovery allows you to pair high-intent companies with quality contacts so you can increase your chances of making a connection in a sequence, cadence, or outbound email campaigns.
Uncover Hidden Opportunities
Once you've landed a customer, growing your share of the business is critical to driving value for your organization. Whether it's cross-sell or upsell, the additional opportunity informs your need to nurture those relationships. Intent data can support you in identifying whether your existing customers are appropriate for those plays.
Look for signals that indicate a customer is researching a new product or service, such as an increase in keyword searches for products and services you sell, or conversely, see if target domains (target companies) have increased their level of intent in general, indicating increased activity and potentially, increased interest across key topics.
If you see that a customer is interested in a new product, reach out and see if they have any questions. This is a great opportunity to introduce them to your other offerings and find upsell opportunities.
Automated Sales and Marketing Activities
To maximize the use of your Marketing Automation and CRM, intent data enables you to distribute triggered, automated messaging to prospects through triggered campaigns and activities where surging intent signals or high-intent levels allow your systems to fire a well-tailored message without the need for you to assess their activity.
Triggered campaigns take advantage of meeting a prospect where they are, when they're there. Whether it's nurture, an email campaign, or a mobile marketing campaign, real-time intent data allows you to set it and forget it, allowing you to focus on your other sales and marketing motions.