What is an Ideal Customer Profile (ICP)?
The Ideal Customer Profile is an element of the Leadspace analytics platform that enables you to define what a 'good' customer (company) looks like.
ICP's are built from an analysis of the companies within your database, looking specifically at the DNA of companies that convert to customers. The graphical representations that we provide help you articulate the characteristics of your customers by providing clear visuals of the companies and people that comprise them. The deep insights offered by marrying your first-party data with our rich third party signals, coupled with the lens of companies that convert versus those that do not, enable you to 'dig in' to the signals that are consistently seen in converting companies. These signals define your Ideal Customer Profile.
How does it work?
We take pride in our "white box" modeling methods and build Ideal Customer Profiles with you based on your organization's specific use cases and business needs. Leadspace combines "objective" statistical insights from a data sample of your leads, contacts, and accounts, with your explicit "subjective" insights regarding the key positive attributes that characterize your ideal customer. This analysis is continuously done on an iterative basis in order to determine which records are more likely to convert or become customers (indicated by "lift").
Clients can access their ICP visuals via the Leadspace Studio platform: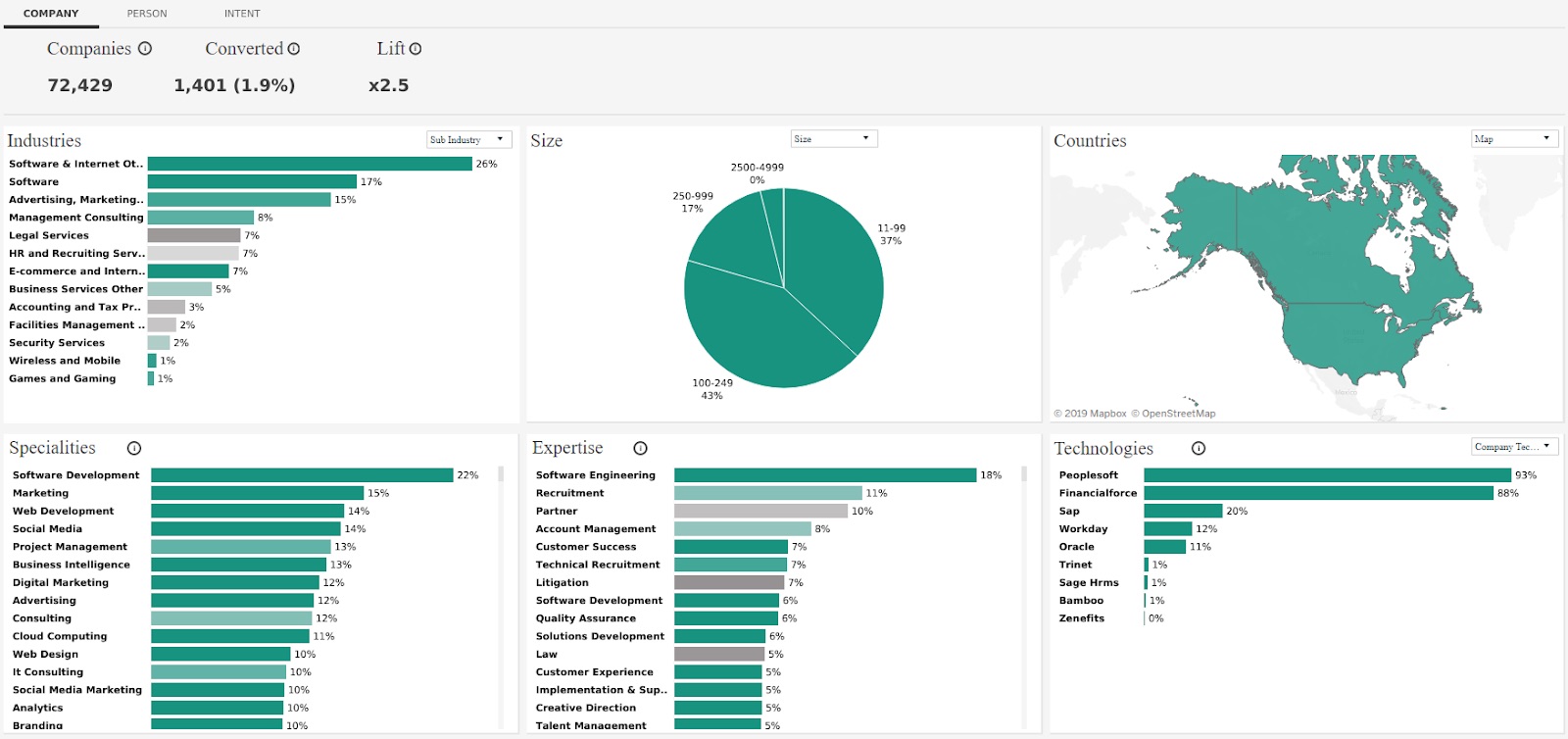 How does an ICP affect discovery, segmentation, and enrichment?
Because the ICP takes into account attributes that go 'beyond the business card', segmenting based on ICP provides the most defined and actionable segments. In addition to fields like title, department, job signals, and technologies, Leadspace also provides semantically related fields (like such as expertise, specialties and job functions) to ensure you are targeting the right people at the right companies for the right product.
The way an ICP is most often used by Leadspace customers is to discover new segments and micro-segments of companies that a customer may want to target (including acquiring more companies that look like these) as a part of their account-based marketing strategies.