Discovering Companies by Criteria
What are Discover Companies by Criteria (Sometimes referred to as Segment Builder)?
A visual, intuitive UX to easily create segments from a superior multi-source B2B Graph, including 1st party data and scoring.

Create the best target account lists for ABM programs with a comprehensive view — including intent, tech install, and scores.

Includes "Global Parent" tab on individual company overview card showing details of the ultimate global parent organization for that company.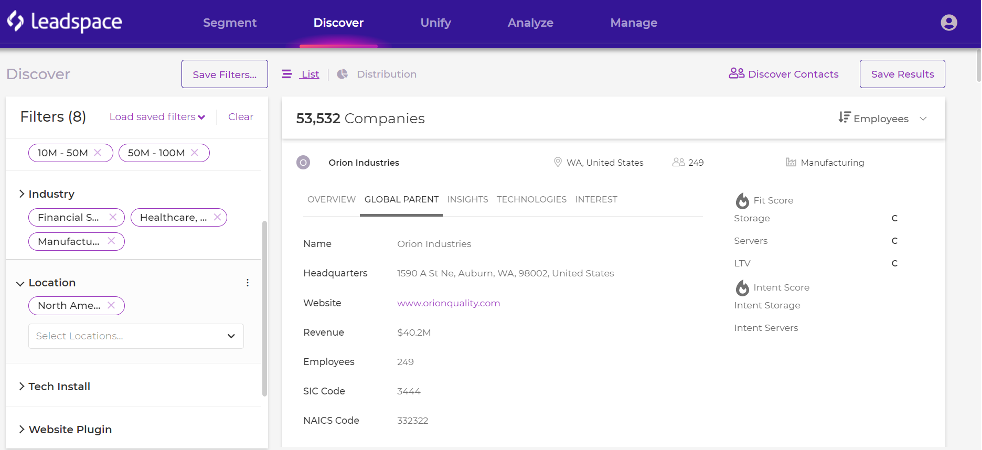 Distribution View displays the mix of companies across employees, revenue, industry, and location, to give users a strategic view and help them adjust before saving.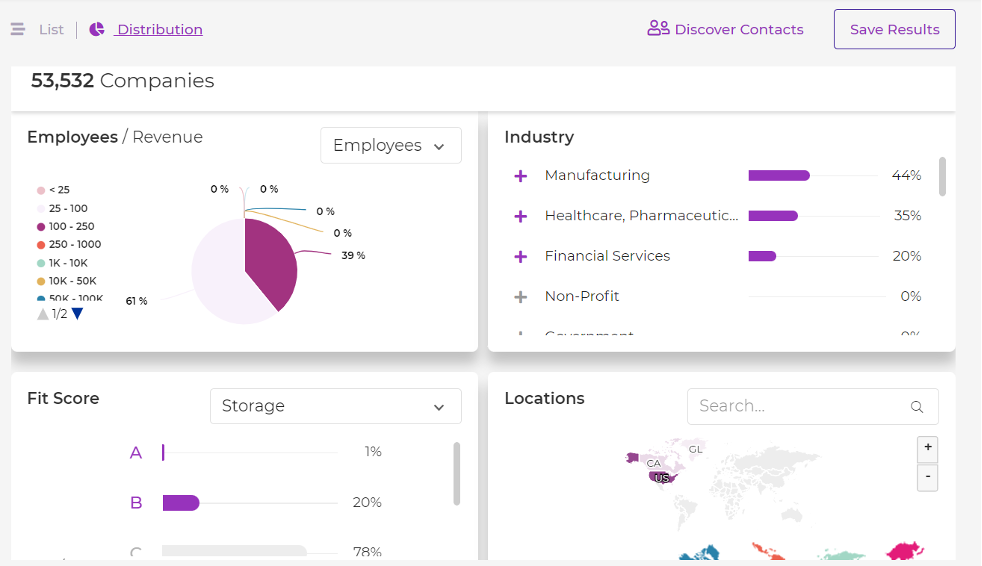 HOW DISCOVERY WORKS:
Can be accessed in Studio in two ways:
From Segment tab > "Create New" button > "Discover" button

From any screen in the platform > clicking on the "Discover" Tab
Users can select various criteria like employees, revenue, industry, and even tech install, 1st party scores, and intent.
Results show as criteria are added, with the ability to examine individual company records to see what kinds of data will be included. Once the segment is created, it can be easily expanded with personas at those companies and deployed to connected systems.
Note: The discovery ability should be available to customers with access to Leadspace Studio. Subject to discovery credits.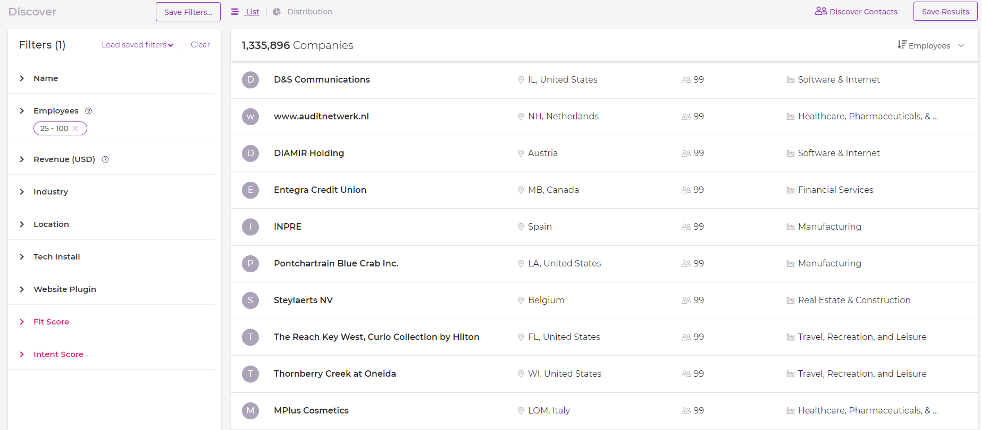 When you start a search for Companies by Criteria and enter the segment builder, you get the list of available filters on your left side:
It contains a set of 3rd party firmographic filters - along with some 1st party scores (Fit and Intent if those are part of your Leadspace solution) - which you can use.

By default, whenever you select filters, you will see the list of companies that results from the chosen filters.
In the list view, you can see a preview of the 100 top companies. When pressing each company's row, the company's line expands and you can see additional information about this company.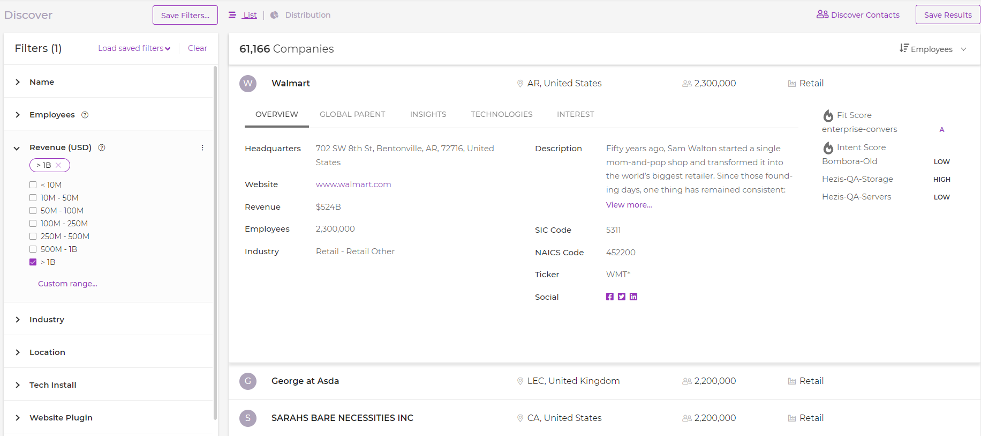 You can also switch to the distribution view where you can see how the list is distributed using different graphs.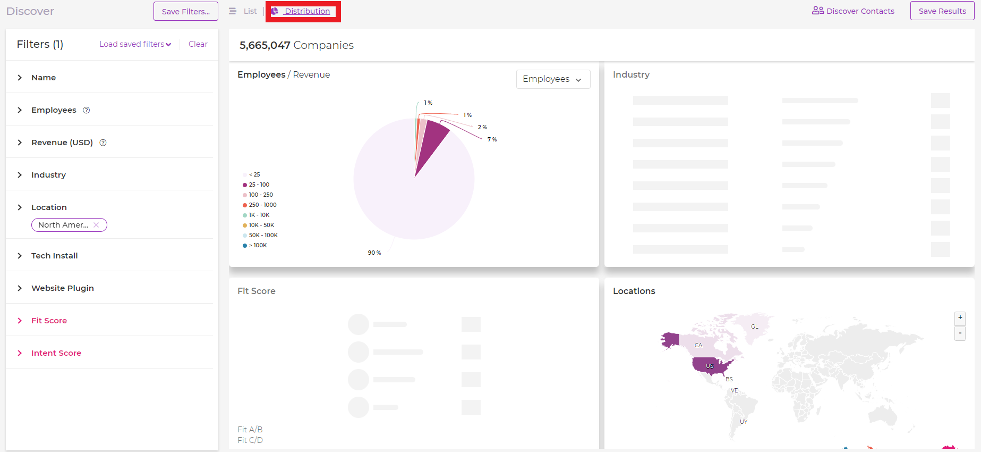 Actions Available in Segment Builder
The actions which are available in the segment builder (Discover Companies) are:
Slice and dice Leadspace's company graph by applying filters to get to the segment you'd like.

Save Results button

Save the list of companies who met the criteria as a segment; (when you save your segment, the related filter is saved for you automatically).

Name your segment

This will be the title of the Segment card later shown in the Segments dashboard.

Limit results

Allows the user to limit the number of companies discovered. The segment can include up to 100K companies.

Exclude companies

Allows the user to indicate known/existing companies, and thus exclude them from the results.

This could be done in one of 2 ways:

Choose from previously uploaded files.

Uploading a file (which will require mapping the headers). Only supports .csv files.

Mapping the headers - indicate which column has the "company name", "company website", etc. Please note: the more fields a user maps, the better the results will be.

Save Filters

Save the current filtering for future use by clicking the "Save Filter" button and name it.
Retrieve saved filtering settings by clicking the filter window and picking your saved filter. You can narrow the filter options to the ones created only by you, by turning on the toggle, or to the ones who have segments created/don't have segments (All Filters, Without segments, or With segments).

Expansion to People by Persona

Directly from segment builder. By clicking "Discover Contacts"- this action creates a segment from the current filtered list + provides a relevant contact list for this accounts segment. You can also create a 'People by Persona' segment using a completed person or company enrichment segment.