Overview
Whether you're driving world-class Demand Generation programs through highly segmented nurture or engagement programs, planning the launch of a new lead scoring, or even providing your BDRs with leads they can prospect and work with – you're likely using Marketo. About 80% of Leadspace's largest Enterprise customers rely on Marketo to drive world-class marketing programs, and although there are countless ways of syncing leads and contacts to your Smart Lists, chances are you'll need to import your leads and contacts into Marketo at one point or another.
If you haven't yet had the opportunity to create a segment, check out this article Discovering People by Persona.
Getting Started
The world-class programs we just mentioned all start with one thing: audiences and segmentation. Classic marketing, right? Well, not quite—with Leadspace, you're finding and prioritizing the most effective segments, personas and contacts to deliver on your Marketing KPIs. Again, if you haven't created custom segments refer to the link above.
Custom Leadspace Segment with Contact Details? Check. Marketo Smart List Filters? Check. Now what? Well, you may have a segmentation like the below: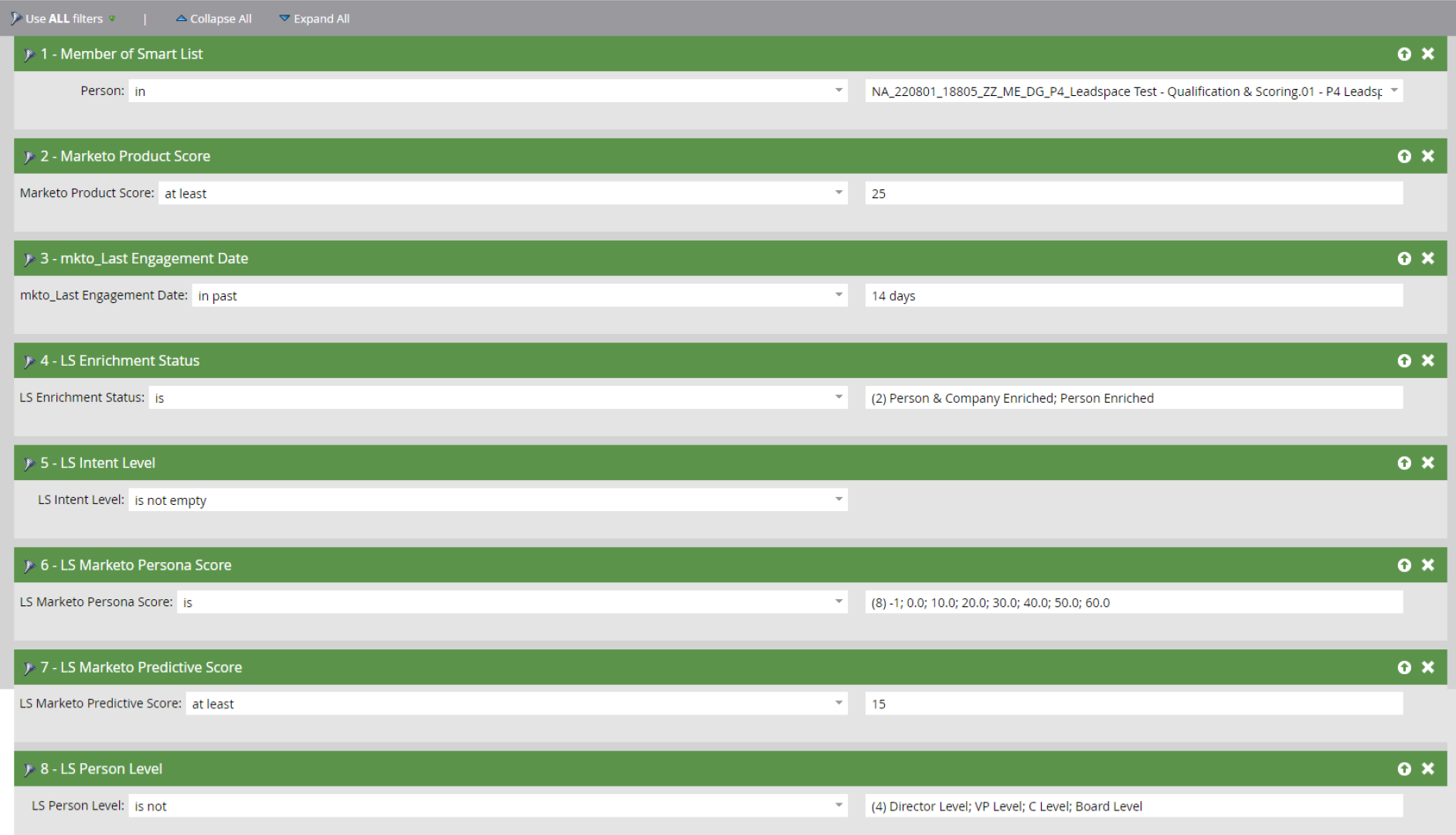 What's the next step? As mentioned above, you'll need some contacts to populate your segment.
Let's walk through the steps to importing those valuable Leadspace Accounts, Contacts, or Leads into Salesforce so your teams can begin actioning on them.
Once you've created your Segment, click the three vertical dots menu.
Navigate to the Download option and hover until you receive additional options
Select Download Full Details. A ZIP file containing a CSV file of your Accounts or Contacts will be downloaded to your local machine.

The filename will reflect your segment name, preceded by the type of Segment you created - Contact Expansion or Segmentation.
The example below would produce the following filename: Leadspace Contact Expansion-FinServ High Touch Contacts-082422_193557

Unzip your New Segment
Drag New Segment to a secure, accessible location.
Importing into Marketo
Which Tools to Use
Marketo has a Static List Import Wizard option which makes uploading your new Leadspace Segment turnkey! Feel free to reference Marketo's List Import documentation here.
Keep reading to learn how to import your Leadspace Enriched Segment into Marketo!
Importing Lists & Segments into Marketo
Before the Import, make sure you've got the right build in place to support your list needs:
Acquisition Program and Static List Check:
Create a Program in Marketo which will get the Acquisition Program credit if you import new record(s)
Create a Static List inside the program which you will use to import the list into
Segment and List Review
Once you have Leadspace Segment, review it against the following items to ensure it's clean and ready for import. Be sure to check for the following:
Delete any records without an email address. As a reminder, you can require an email to be a mandatory field when you Discover People by Persona through the following option in Segment Builder:
Delete any columns/fields you don't want to import. It's likely there are more Leadspace fields that you don't care to import into Marketo based on your preexisting Marketo Segment
Normalize any values which don't match your standard pick-list values

Example: Industry, Country, Job Function

Add a Lead Source field/column and any other standard fields to support your Source Strategy – i.e. Leadspace Leads
Add a header row with the field names that match the Marketo field name. If you don't want to match the field name, you can create field aliases (instructions here).
Best practice is to import CSV files unless you are importing non-Latin characters, in which case Leadspace recommends that you follow these instructions.
Importing Leads / Contacts into Marketo
Note: You must have the list import permission to import a list.
Step 1 – Decide if you want to build a New Program or a New List
If you want to create a new Marketing Program, you'll want to Create a New Program > New Local Asset > List.
If you're looking to just create a new Static List, see below:
Step 2 – Select File
Click on the Static List you will be importing into and go to List Actions > Import List.
File:

Find the file you want to import.

File Format: Select the file format from the drop-down.

Auto Detect (the system will auto detect format but the file must be in one of the supported three formats)
Comma Separated Values (recommended)
Tab-Delimited
Semicolon Separated Value
List Import Mode*:

Default – this will add people from your list to the Marketo database, and update any field-level data in your list for those people (unless blocked in Field Management)
Skip New Leads and Updates – this will only add people to your static list that already exist in your Marketo database (thus, will not add any people to your database
Note: In List Import Mode, choosing Skip new people and updates

means you will not impact existing person records or log any activities. Use this mode if you want a quick, pre-filtered static list of existing people for use in your marketing activities. Selecting this mode will:

Skip new person creation
Skip person field updates
Skip activity logging
Step 3 – Import Preview
Preview: Review the fields that will import, the fields that will be ignored, and the fields that will be blocked from updating during list import.
Auto-Mapping: Marketo attempts to auto-map fields which you can correct if necessary—this may be necessary as Leadspace has a standard field naming structure.

Fields that will not import will be marked as IGNORED and you can search for the corresponding Marketo field (optional). Fields that will not accept an update will be marked as BLOCKED.
Best Practice: Column headers should always match the field (case sensitive) to achieve the best auto-mapping results. If you're using custom fields and don't see them in the drop-down, go back and create them so they can become options.
Step 4 - Import Options
List Name: Enter the list you will be adding the records to (if you went through the steps above, it will auto-populate)
Revenue Stage: Recommended to ignore this and manage your Revenue model. Ask your CSM for more details here.
Acquisition Program: The Acquisition Program is the Program that will get credit for acquiring the new lead. So, for instance, if you have Leadspace Discovered Contacts for Inbound Profile Management for this segment and want to import them into Marketo, you would select that program.
Step 5 – Import the File
After you've finalized your Options, Click Import.
List Import Timing: The list is now importing. Based on the size of the file, it may import in near real-time, or it could take some time.

You can always see the status of the list import in the top right corner of your Marketo instance (the following will pop up after you select Import).

When complete, you'll see the following Import completed message. If you chose the "Skip new leads and updates" import mode and people were not added to the list because they didn't exist in the Marketo database, you will get a link in the import status box that will tell you the number of people, and link out to a list of the people who were not added (will download as a CSV file).
If the list import is taking longer than expected, and you'd like to get rid of the notification, yet check back on the status later, you can go to the List > List Actions > Show Import Status.
Step 6 – Review your List, if Desired
You can view the people you just imported by navigating your list and viewing the "Leads" tab. You can change the View to see any data point (field) about those people.